740 EJ Articulated Truck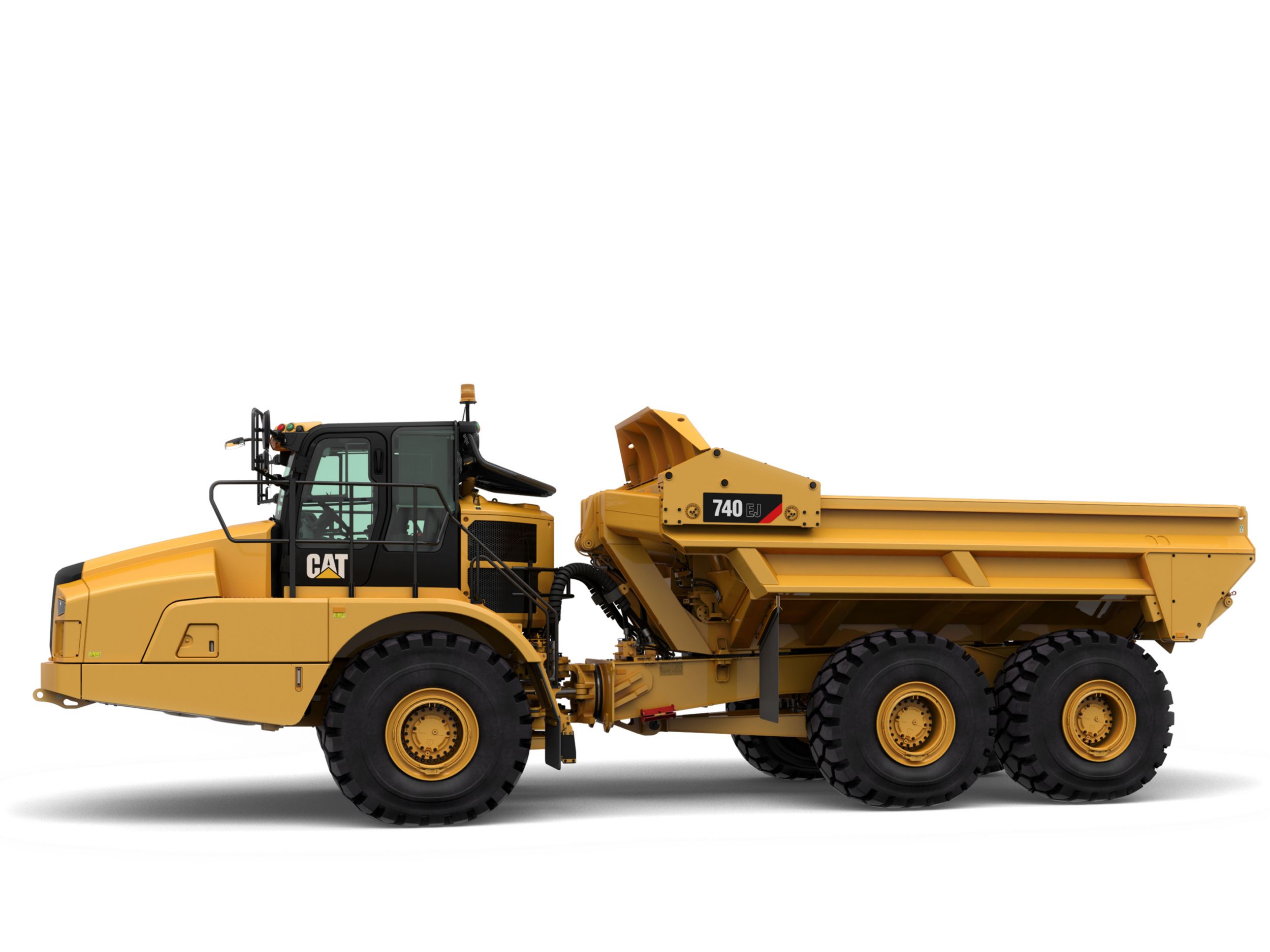 Additional Views:
Engine
Engine Model

Cat® C18

Bore

5.7 in

Stroke

7.2 in

Displacement

1106 in³

Gross Power - SAE J1995

511 HP

Net Power - ISO 14396

504 HP

Net Power - SAE J1349

496 HP

Engine Model - U.S. EPA Tier 4 Final, EU Stage V, Japan 2014 (Tier 4 Final), Korea Tier 4 Final

Cat C18

Emissions

The 740 EJ meets Tier 4 Final and Stage V emission standards.

No Engine De-rating Required Below

10000 ft

Note (1)

The power ratings apply at rated speed of 1,700 rpm when tested under the conditions for the specified standard.

Note (2)

The net power advertised is the power available at the flywheel when the engine is equipped with alternator, air cleaner, muffler and fan at minimum speed.

Note (3)

Net power when the fan is at maximum speed is 348 kW (467 hp) per the SAE reference conditions.

Note (4)

DEF used in Cat SCR systems must meet the requirements outlined in the International Organization for Standardization (ISO) standard 22241-1. ISO 22241-1 requirements are met by many brands of DEF, including those that carry the AdBlue or API certificatio

Peak Engine Torque Gross (SAE J1995)

1931 ft·lbf

Peak Engine Torque Net (SAE J1349)

1887 ft·lbf

Peak Engine Torque Speed

1200 r/min
Weights
Rated Payload

42 ton (US)
Body Capacities
Heaped (SAE 2:1)

30.1 yd³

Struck

23.5 yd³
Transmission
Forward - 1

3.8 mile/h

Forward - 2

5 mile/h

Forward - 3

7 mile/h

Forward - 4

8.8 mile/h

Forward - 5

11.6 mile/h

Forward - 6

14.2 mile/h

Forward - 7

19.6 mile/h

Reverse - 1

4 mile/h

Reverse - 2

9.1 mile/h

Forward - 8

23.5 mile/h

Forward - 9

34 mile/h
Sound Levels
Interior Cab

72 dB(A)

Note (1)

The operator sound exposure Leq (equivalent sound pressure level) measured according to the work cycle procedures specified in ANSI/SAE J1166 OCT98 is 76 dB(A), for the cab offered by Caterpillar, when properly installed and maintained and tested with the

Note (2)

Hearing protection may be needed when operating with an open operator station and cab (when not properly maintained or doors/windows open) for extended periods or in noisy environments.
Operating Weights
Front Axle - Empty

44849 lb

Center Axle - Empty

17095 lb

Rear Axle - Empty

16515 lb

Total - Empty

78623 lb

Front Axle - Rated Load

3534 lb

Center Axle - Rated Load

40120 lb

Rear Axle - Rated Load

40120 lb

Total - Rated Load

83776 lb

Front Axle - Loaded

48548 lb

Center Axle - Loaded

57214 lb

Rear Axle - Loaded

56637 lb

Total - Loaded

162399 lb
Body Plate
Type

High Strength Brinell HB450 Wear Resistant Steel

Front

0.28 in

Chute

0.55 in

Side

0.43 in

Base

0.55 in
Service Refill Capacities
Fuel Tank

145.3 gal (US)

Cooling System

23.7 gal (US)

Engine Crankcase

13.7 gal (US)

DEF Tank

5.3 gal (US)

Steering/Hoist Hydraulic System

36.9 gal (US)

Transmission - OTG

19.8 gal (US)

Brake Cooling Tank

17.7 gal (US)

Axles - Each

15.8 gal (US)

Final Drive - Each

1.3 gal (US)
Steering
Lock to Lock

4.8 seconds @ 60 rpm
Standards
Brakes

ISO 3450 – 2011

Cab - FOPS

ISO 3449 Level II – 2005

Cab - ROPS

ISO 3471 – 2008

Steering

ISO 5010 – 2007
Turning Circle
Turning Dimensions - Steer Angle - Left/Right

45 deg

Note

Dimensions are for machines equipped with 29.5R25 tires.

Turning Dimensions - Aisle Width

233 in

Turning Dimensions - Clearance Radius

356 in

Turning Dimensions - Inside Radius

173 in

Turning Dimensions - SAE Turning Radius

339 in
Optimal Loader/Truck Pass Matching
Wheel Loader: 980 - Passes

4–5

Wheel Loader: 972 - Passes

4–5

Note

An optimum system match gives you a major productivity advantage. Having matched loading and hauling tools results in increased production and lower system costs per unit of volume moved.

Hydraulic Excavator: 390 - Passes

4

Hydraulic Excavator: 374 - Passes

5

Wheel Loader: 982 - Passes

4
Blade Eject/Retract
Eject (automatic)

16 s

Eject (manual)

17 s

Retract (automatic)

21 s

Retract (manual)

21 s
Engine Model

Cat® C18

Bore

5.7 in

Stroke

7.2 in

Displacement

1106 in³

Gross Power - SAE J1995

511 HP

Net Power - ISO 14396

504 HP

Net Power - SAE J1349

496 HP

Engine Model - U.S. EPA Tier 4 Final, EU Stage V, Japan 2014 (Tier 4 Final), Korea Tier 4 Final

Cat C18

Rated Payload

42 ton (US)

Heaped (SAE 2:1)

30.1 yd³

Struck

23.5 yd³

Forward - 1

3.8 mile/h

Forward - 2

5 mile/h

Forward - 3

7 mile/h

Forward - 4

8.8 mile/h

Forward - 5

11.6 mile/h

Forward - 6

14.2 mile/h

Forward - 7

19.6 mile/h

Reverse - 1

4 mile/h

Reverse - 2

9.1 mile/h

Interior Cab

72 dB(A)

Front Axle - Empty

44849 lb

Center Axle - Empty

17095 lb

Rear Axle - Empty

16515 lb

Total - Empty

78623 lb

Front Axle - Rated Load

3534 lb

Center Axle - Rated Load

40120 lb

Rear Axle - Rated Load

40120 lb

Total - Rated Load

83776 lb

Front Axle - Loaded

48548 lb

Center Axle - Loaded

57214 lb

Rear Axle - Loaded

56637 lb

Total - Loaded

162399 lb

Type

High Strength Brinell HB450 Wear Resistant Steel

Fuel Tank

145.3 gal (US)

Cooling System

23.7 gal (US)

Engine Crankcase

13.7 gal (US)

DEF Tank

5.3 gal (US)

Steering/Hoist Hydraulic System

36.9 gal (US)

Transmission - OTG

19.8 gal (US)

Brake Cooling Tank

17.7 gal (US)

Lock to Lock

4.8 seconds @ 60 rpm

Brakes

ISO 3450 – 2011

Cab - FOPS

ISO 3449 Level II – 2005

Cab - ROPS

ISO 3471 – 2008

Steering

ISO 5010 – 2007

Turning Dimensions - Steer Angle - Left/Right

45 deg

Note

Dimensions are for machines equipped with 29.5R25 tires.

Turning Dimensions - Aisle Width

233 in

Turning Dimensions - Clearance Radius

356 in

Turning Dimensions - Inside Radius

173 in

Turning Dimensions - SAE Turning Radius

339 in

Forward - 8

23.5 mile/h

Wheel Loader: 980 - Passes

4–5

Wheel Loader: 972 - Passes

4–5

Note

An optimum system match gives you a major productivity advantage. Having matched loading and hauling tools results in increased production and lower system costs per unit of volume moved.

Eject (automatic)

16 s

Eject (manual)

17 s

Retract (automatic)

21 s

Retract (manual)

21 s

Emissions

The 740 EJ meets Tier 4 Final and Stage V emission standards.

No Engine De-rating Required Below

10000 ft

Note (1)

The power ratings apply at rated speed of 1,700 rpm when tested under the conditions for the specified standard.

Note (2)

The net power advertised is the power available at the flywheel when the engine is equipped with alternator, air cleaner, muffler and fan at minimum speed.

Note (3)

Net power when the fan is at maximum speed is 348 kW (467 hp) per the SAE reference conditions.

Note (4)

DEF used in Cat SCR systems must meet the requirements outlined in the International Organization for Standardization (ISO) standard 22241-1. ISO 22241-1 requirements are met by many brands of DEF, including those that carry the AdBlue or API certificatio

Peak Engine Torque Gross (SAE J1995)

1931 ft·lbf

Peak Engine Torque Net (SAE J1349)

1887 ft·lbf

Peak Engine Torque Speed

1200 r/min

Axles - Each

15.8 gal (US)

Final Drive - Each

1.3 gal (US)

Note (1)

The operator sound exposure Leq (equivalent sound pressure level) measured according to the work cycle procedures specified in ANSI/SAE J1166 OCT98 is 76 dB(A), for the cab offered by Caterpillar, when properly installed and maintained and tested with the

Note (2)

Hearing protection may be needed when operating with an open operator station and cab (when not properly maintained or doors/windows open) for extended periods or in noisy environments.

Forward - 9

34 mile/h

Front

0.28 in

Chute

0.55 in

Side

0.43 in

Base

0.55 in

Hydraulic Excavator: 390 - Passes

4

Hydraulic Excavator: 374 - Passes

5

Wheel Loader: 982 - Passes

4